Grief Resources for Professionals
Guidance and Tools to Navigate Through Grief
Willow House connects you with different types of resources for yourself, friends, family, students, and clients who are grieving.
Featured Resource


Constructing Culturally Sensitive Creative Interventions for Use with Grieving Children and Adolescents
by Page L. Thanasiu, N. Pizza, 
Journal of Creativity in Mental Health
ABSTRACT
A family's culture dictates not only the established traditions for mourning, but also the ways in which a person may internalize the experience of loss. In addition to viewing death within the context of their family's culture, children's understanding of each and experience of grief will also depend upon their level of cognitive development. In this practice-based article, the authors explore developmental and cultural considerations for mental health practitioners counseling children and adolescents who are navigating the grieving process. After detailing steps for enhancing cultural sensitivity, two case studies are printed that describe various ways to utilize culture-specific knowledge when creating developmentally appropriate interventions… READ MORE
Downloadable Resources
Explore these resources and educational materials for mental health and school professionals. These resources can benefit all ages who are grieving and all types of loss.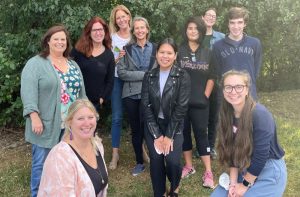 The Willow House Newsletter
Willow House Connections is our quarterly newsletter featuring educational information and resources, stories about our families, volunteers and other supporters, news of upcoming events and programs, and much more.
Need help finding a resource?
If you are looking for information or resources on a specific grief topic please reach out to us and we can help you find what you are looking for. Submit an inquiry or email
[email protected]
.
So no child grieves alone.
Bring hope and healing to youth and families who are grieving the death of a parent, sibling or child. Your donation allows us to continue to offer our services at no cost and to provide education, training and consultation to the schools and other communities seeking to support these families effectively.